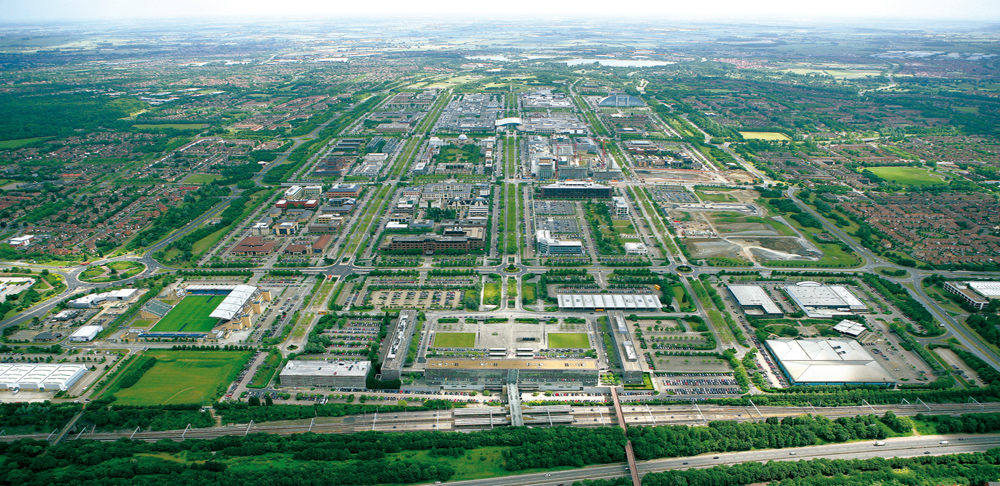 Milton Keynes, or MK as it is affectionately known, has a lot to offer looking for a Milton Keynes relocation. Modern apartments, a great geographic location, lots of attractions, plenty of business opportunities as well as a ton of green space, in fact more green space per person than anywhere else in Britain, making the town appealing to professionals and families alike.
We recommend Milton Keynes to clients who are looking for a central base. Situated a 60 minutes' drive north of the centre of London the city lies between two major motorways, the M1 and the M40 so it is an easy to commute to the north or south. We have helped many assignees, who are usually looking for apartments or homes close to their place of work, that can comfortably accommodate their families.
Serviced accommodation
Perfect for short stays before you settle into your long term rental, serviced accommodation in Milton Keynes usually means a 1 or 2 bedroom apartment with kitchen and living space facilities that is fully furnished and ready to move into. Apartments are regularly cleaned and you would have the same amenities and hospitality that you would find at a hotel. Most accommodation also benefits from a car parking space included in the cost so you can easily get around and get to know your new location.
An example of some of the new and available stylish longer-term accommodation options would be the stunning new Solstice Apartments by Grainger which launched in March 2020. The 139 1 or 2 bedroom apartments, situated right next to Milton Keynes city centre and close to all of the established high street shops, offer up to a three year flexible tenancy. Included in the rent is a 24 hour fitness area, free superfast Wi-Fi, roof terrace, residents' lounge and co-working space to help you really feel comfortable and at home. These apartments are stylish, spacious and modern and are within a 20 minute walk to the train station where you can catch a 30 minute train ride into the capital.
New builds
If you are looking for an investor home on a commuter belt, or you are looking to move to a new build where you can reap incentives such as stamp duty contributions, or even if you are looking for an affordable rental property Milton Keynes is not short of new housing stock.
Led by leading developers such as Bloor and Taylor Wimpey, the city is expanding at an enormous rate with thousands of new homes being built expanding the city outwards. On the west flank are new developments including Fairfields, on the east you have Broughton and to the south there is Newton Leys.  These areas have seen a recent spike in sales due to the pandemic and city livers looking to move to the suburbs however they are still very much affordable to those who wish for a quieter life but not too far away from the hustle and bustle.  A 1 bedroom small apartment in London will easily buy you a spacious 3 bedroom home with a garden and parking in one of these new developments.
New builds offer convenience and cost saving and they are essentially ready to move to straight into as they are modern, plainly decorated and easy to make into a comfortable home. You're much less likely to have to folk out for renovation costs within the first 20 years. The main benefit is that most homes come with a standard 2 year builders warranty to protect you against structural issues. The homes also come with a further 10 year NHBC warranty so you can feel secure that if you were to invest you'd be fully insured.
Jobs
As the major town sits in the heart of England with easy road links to major cities like London and Birmingham there is a wealth of job opportunities in the area. Homes and Property voted the new era town as one of the best commuter areas for 2020 and one of the most buoyant locations in the UK with the fastest population in Europe. Amazon are looking to employ 1500 people and M&S 360 people to help operate their huge distribution centres that sit on the edge of the city to fulfil their growing online consumer demand. Tesco is also hiring a further 16,000 employees to also support its online business.  Voted in the Top 10 places for tech in the UK, Milton Keynes has been known to produce and trial leading technologies such as Starships Robot deliveries, which have  been a crucial way of safely delivering food parcels to peoples homes during the pandemic. More and more leading design and technology jobs are being represented in the town as it seeks to live up to its innovative reputation.
Local attractions
Milton Keynes is home to multiple cinemas including Cineworld and Odeon, a large theatre, a huge modern shopping centre, beautiful luxurious holiday resorts such as Center Parcs at Woburn, Gullivers theme Park for children and the town even has its own football stadium, MK Dons who are in League One of the EFL. If during your relocation you fancy continued study during your time here you can even enrol at The Open University which have courses from every area that are accessible to everyone, no matter what your previous academic achievements may be. On the outskirts of the town is a world renowned establishment Silverstone race circuit where the Formula 1 is held each year. You are also a short car, train or bus journey away from the capital city of London, where you can also easily access most of Europe within a quick 2 hour flight.
Milton Keynes is a truly diverse, modern and easy living city within a short distance from other major UK cities. It is thoroughly worth considering Milton Keynes as a place to relocate to especially if you seek both peace and want to have amenities on your doorstep. Get in touch with our team at Citrus today to see how we can help you.
Contact us
For support please call

+44 (0)203 303 3208

, email us at 

info@citrusrelocation.com

, or contact us using the

form

or

chat box

below.