As an International Relocation company we want to ensure our clients are feeling completely looked after, from the moment they start their relocation search, to the moment they arrive at their new front door. One part of the relocation process is to ensure our clients treasured possessions, such as furniture, vehicles, and clothing, are transported securely to their new destination. We take care of this by working with a number of UK based International Movers.
For our removals and shipping services we partner with the best UK International Mover companies to ensure the efficient and safe move of your household items. Our team at Citrus will work closely with the moving company, acting on your behalf, to keep your move on track. One of our partners, Burke Bros, has written some extremely helpful tips about what to look for when you're choosing a company for removals:
What to Look for in an International Mover
Entrusting your world possessions to an international moving company when you make the move abroad, is a big step. It's worth doing a little homework beforehand and knowing what to look for in an international mover.
Here's a few useful pointers to assess the credentials of your moving company:
1. The accreditations
One of the main things to always look out for is whether they are members of the British Association of Removers, and for reassurance of their credibility as an international mover; members of FIDI (the largest global alliance of independent quality international removal companies).  These accreditations mean that they are independently audited and assessed to guarantee quality and professionalism.
2. Location, location, location
You may presume that you need to contact movers local to you, but don't be put off by international movers from further afield as locality is not so important when choosing an overseas specialist mover. It's more important that they have the right experience and knowledge of overseas moving to your destination.
3. On face value
Keep an eye out for 'real life' photographs of their vans, their uniformed removal crews and the moves they have carried out.  Any company can hide behind a sleek website and generic 'stock images'- look for a company that is transparent about their operations.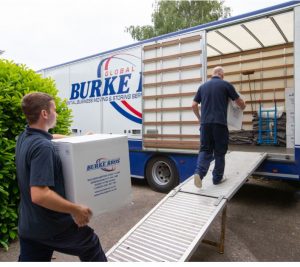 4. The survey
Once you have selected a company, invite them to give you a quotation for your move. This normally involves arranging for an estimator to visit you in your home, or at a distance via a video survey, in order to calculate volumes and packing requirements. Calculating the correct volumes is the key factor. In preparation for the move an experienced estimator can also give you some invaluable advice and guidance on what's required.
5. Wrapping it up
Speak to the mover about how they pack your belongings safely and endeavour for them to arrive at destination in the same condition they left your destination in. All international movers should have overseas trained packers to make sure the standard of packing is the same throughout. Don't be afraid to explicitly ask the moving company whether their staff are professionally trained.
All fragile items should be wrapped in packing paper or bubble wrap. The crews should use export strength cartons; special linen cartons, book cartons and hanging garment boxes, if required. Crates should be tailor made for pianos, clocks, glass cabinets, and specially constructed frames/crates should be created for shipping scooters and motorbikes.

6. Better safe than sorry  
Make sure your moving company offers marine insurance. There will always be an element of risk and things can always go wrong when moving such a distance.  It is always highly advisable that you take out sufficient insurance cover for your entire move. Make sure you are covered for both your goods, as well as the cost of the shipment itself, if required. A comprehensive door to door cover is best.  Any removal company that doesn't offer this should be given a very wide berth.
---
Want to know more about how Citrus's Relocation team can help you find a shipping and removals company, as well as how we can help manage your move?
Call: +44 (0)203 303 320
Or complete the contact form below: