Answering your International Shipping queries
We have put together this blog answering your international shipping queries to put your mind at ease and to clarify how the process works. If you are relocating as a private or corporate client then this helpful compilation of answers has been written by one of our shipping partners, Burke Bros to help you decipher the benefits of shipping your furniture. They've included a few handy tips too!
Should I rent furniture or ship on my own?
One of the most popular questions that we answer when it comes to answering international shipping queries is whether renting new furniture or shipping current furniture is the best option. There is a familiar, historical and a sentimental attachment to your own furniture that is hard to replace and that will be welcome amongst the turbulence and upheaval of starting a new life in a new country.  If you're moving to the UK as a family, children can be especially comforted by the presence of the familiar and having your own furniture relieves the anxieties you may have over spills or damages that the rental furniture may incur.
How should I go about preparing to pack?
We're often asked this about all kinds of moves but when it comes to moving overseas the best advice really is to leave it to the professionals.  Quite simply, they are quicker and have the right packing materials to hand.  Many people underestimate the work involved in packing.  Moreover, if the remover packs, their work is protected by insurance.
We advise that you keep personal valuables with you and if you do pack any items yourself, ensure that you give a list to the moving company. Most countries will have restrictions on what you can import.  Your moving company will advise on this and will signpost you to up to date rules on importing.
Be sure to isolate your travel documents and passport don't let these be packed and keep them with you when you travel.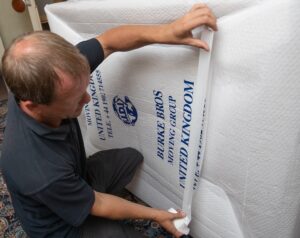 Can I take my vehicle with me?
There are strict regulations about the movement of vehicles into other countries and some places are more restrictive than others.  It will vary depending on where you're moving to and how long you have owned the car etc.  Your chosen remover is there to guide you through the regulations and requirements. If for whatever reason you decide not to take a car then Citrus have a car finding specialist who is experienced at browsing the UK market for the best deals. They'll look after everything including the delivery of the vehicle to your driveway if you so wish.
Am I allowed to take food in my shipment?
It's advisable not to take food items with you.  In some countries, certain foods are strictly prohibited and the presence of food items may increase the likelihood of Customs stopping your consignment and potentially delaying clearance.
Your moving company should provide you with a guide to Customs detailing potential restrictions and prohibited items for the destination country you are relocating to and will be on hand to answer any concerns that you have about what you can and can't take.
How important is it to take out insurance?
Whilst your remover should take every possible care with your goods, moving abroad will realistically involve many people handling your shipment and your effects travelling a considerable distance.  Taking out insurance gives you peace of mind and saves the heartache, should the unforeseen occur. Speak to Citrus if you need some advise how you can obtain travel insurance.
How do I know that my effects will be safe whilst in shipment?
Choosing a shipping company who has membership with British Association of Removers and FIDI should mean that your moving company will have solid working relationships with other members all round the world. This family of companies know and work closely with each other to make sure that shipments are handled professionally.
How does Customs Clearance work?
Once your shipment arrives in the destination country, the local moving company (working in partnership with your International UK mover) will arrange the Customs Clearance for you.  Some countries do require a short interview with customs, and some countries will permit you to nominate a representative to clear customs on your behalf but your moving company will be able to advise you on this depending on where you're moving to.
Once you effects have been cleared, they can be delivered either to your new home or, if you arrange this with your moving company prior they can be delivered to a storage facility.
What happens when my effects arrive?
It's advisable to unpack everything straight away rather than delaying. This means that if there has been any damaged occurred in transit you can report it swiftly to the local moving company that carried out the move in the destination country.  The procedure for claims and time limits in which to claim will be set out in your policy.
Get in touch
This blog was written by Burke Bros who are an experienced British International Mover and Storage company. If you are looking for a reliable shipper or storage facility in the UK then we would highly suggest contacting us at Citrus so that we can match your requirements with the best facilitators in the UK.
Call: +44 (0)203 303 320
Or complete the contact form below:
Join our Citrus Relocation Newsletter
We like to stay connected to our clients and also offer potential new clients updates about relocations to the UK as well as offer incentives when purchasing Relocation packages with Citrus. If you'd like us to send you updates please join our mailing list.