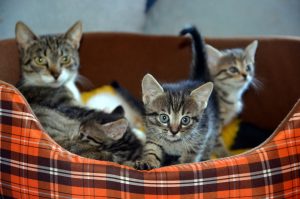 When relocating with your pet into the UK forward planning is vital.
If you are considering moving to the UK and you want to relocate with your loveable dog, cat or other animal its important to plan.
Do not fret! The British are a nation of animal lovers and many people have pets. With just over £10bn being spent every year on making sure they lead a life of comparative luxury.
However, landlords are reticent to take pets, when it comes to them living in their rental properties. You may know how appealing and well-behaved your pet dog or cat is. You can state how house-trained they are, however landlords, even those who own pets themselves, are likely to turn down applicants with pets.This can happen even if the tenant puts forwards a generous offer.
You may be wondering why this is the case? Well, it's simply that they are concerned that your cat or dog will destroy the furniture or carpets that they intend to last for a good while. Or, that they will inconvenience neighbours through noise.  In addition there are plenty of tenants waiting in the wings who do not have any pets. Choosing a tenant who has no responsibility for an animal is by far the simpler option for any landlord.
Having an animal, or two, in tow can reduce your ability to view the maximum amount of suitable properties. In some areas it can mean that you will only be able to be considered for 50% of available properties thus greatly reducing your property options. So how can you increase your chances of finding a property where the whole family, as well as your pet, can be accommodated?
Relocating with your pet using Citrus 
Citrus will diligently research the market for properties where your pet will be accepted. Having moved hundreds of families and professionals with pets, Citrus have the network and contacts in the property industry to ensure your pet is made to feel at home too. We are able to save you the valuable time, energy and anxiety of searching for an appropriate animal friendly residence and we can often help to overturn the landlord's reticence towards your pet for their rental property.
Your chosen location is also a major factor in increasing your likelihood of finding a home that will accept a cat or dog. Central London is a particularly difficult location as the majority of apartments do not have much green open space suitable for pets to exercise. Neither do they often have private access so as not to annoy neighbours. In addition, the head lease (which lays down the rules of owners and tenants residing in the block), often prohibits any tenant having a pet within the flat – something which is unfortunately even out of the landlords control.
Getting your pet accepted for your relocation
In London consider areas close to Hyde Park, Regents Park and the other Royal Parks where you can walk your dog being mindful of the rules and regulations of those parks. As there has been a long tradition of pets within the parks, landlords with properties surrounding and near to the parks have tended to be more amenable to having pets. This is probably the scenario around all the main UK cities and towns, i.e. parks and country locations increase your chances of an offer acceptance.
Be prepared to offer the full amount against the full asking price as this will increase your chances of your offer being accepted. Also be prepared to sign some form of disclaimer against your pet damaging or destroying property and you will have to make good any damage before you leave. You would normally have to pay an additional deposit at the outset of your tenancy against such damage.
At Citrus we will make sure that your pet has proper quality transportation whilst ensuring you have all the necessary veterinary and legal requirements and paperwork completed that are currently in force within the UK.  Citrus will provide the help and assistance needed to ensure the safe welfare of your pet whilst providing the smoothest possible transition into the UK for you and your pet.